Happy Friday my friends! What a fabulous week of Holiday Hostess tutorials! We wrap up the week with a super cute, quick project that is perfect for those special fabric scraps you've been saving. Check it out below!
 It is such an honor to be guest posting here on Ellison Lane with such a talented group of ladies for the Holiday Hostess Series.  I can't wait to get started on all these great projects.  Thanks so much for inviting me, Jennifer!
Napkin Ring Tutorial
Today I'm going to show you how to make napkin rings to coordinate with your holiday table linens.  At the end of this post, I'll provide a link to the applique pattern set I created if you would like to make the napkins pictured.
These napkin rings are quick to sew up and can easily be customized to match any table linens depending on your fabric choices.  They are durable and firm as well as washable.  The hook and eye closure allows them to be stored open flat when not in use, and can even allow for a double sided design if you're so inclined.  Let's get started, shall we?
For EACH napkin ring, you'll need:
Main fabric – 6 1/2″ x 3 1/2″
Accent fabric – 6 1/2″ x 1 1/2″
Peltex – 5 1/2″ x 1 3/8″
Hook & eye closure
Sewing machine & coordinating thread
Needle & thread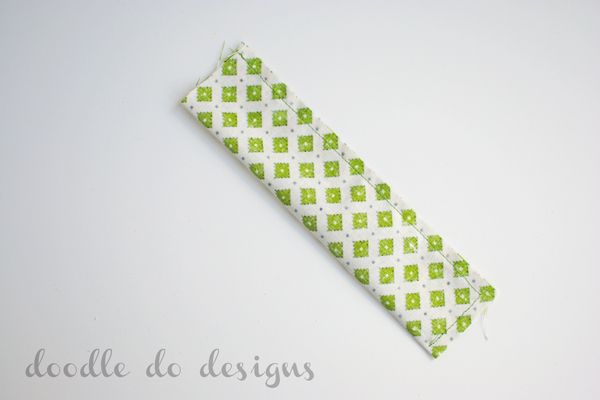 Step 1Fold the main fabric in half, right sides together, matching the long sides.  Stitch the two long sides together using a 1/4 inch seam, back stitching at the beginning. A 1/4 inch before the end of the long side, keep your needle down and turn the tube 90 degrees and stitch down the short side, all the way to the fold.  Back stitch.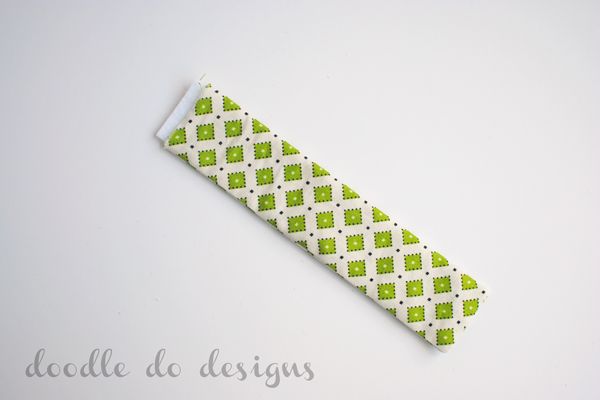 Step 2
Turn the tube right-sides-out and push out the corners with a chopstick.  Slide your piece of Peltex into the tube as far as it will go.  This may take a little shimmying to get it all the way to the end.  The photo above is just for reference, as the Peltex will not be visible from outside of the tube once it is all the way in.  There should be about a half inch of fabric left.
Step 3
Fold one short open side snugly over the Peltex insert (pictured above, left).  Fold the remaining raw edge under leaving a smooth finish (pictured above, right).
Step 4
Topstitch close to the edge, through all the layers, along the perimeter.  Increase your stitch length a little and go slowly for even stitches.
Step 5
Fold the accent fabric in half, wrong sides together, matching the long sides, and press.  Open and fold each long raw edge in towards the center crease, press.
Step 6
Tuck each short side under about a 1/4 inch and press.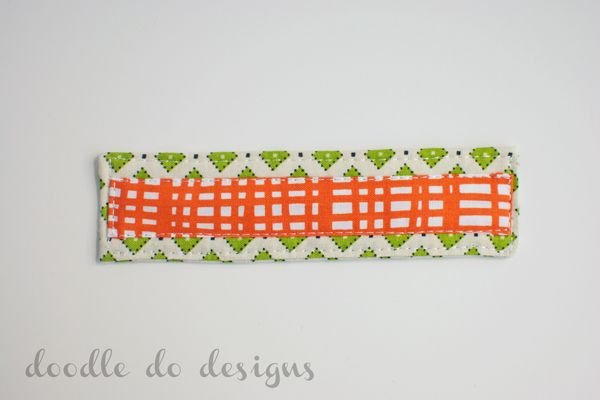 Step 7
Center the accent piece over the main piece and topstitch in place.  Increase your stitch length a little and go slowly for even stitches.
Step 8
Using a needle and coordinating thread, hand sew the hook and eye closures into place as pictured above.  The packaging should have instructions on the best way to do this per your specific product.
Step 9
Hook the closure together, wrap around your napkins, get someone else to set the table, and enjoy your festive tablescape!
As if these napkin rings weren't fun enough, you get to enter an exciting giveaway as well!  Stitcherie is kindly providing a jelly roll of Lush Uptown by Erin Michael for Moda to one lucky winner!  Stitcherie is a brand new modern sewing and quilting boutique located online and locally in the Houston, TX area.  Get in the know with important announcements and updates by following Stitcherie's Facebook page to earn yourself an extra entry in the giveaway.  Visit my blog, Doodle Do Designs, to enter.
While you're there for the giveaway, don't forget to download a copy of the applique pattern set featuring a pumpkin and a Christmas tree for use with your favorite applique method.  Stick around, take a look at my gallery of finishes, and check out my Scrappy Dishtowel Tutorial.  Good luck in the giveaway, dear readers, and thanks so much for having me, Jennifer!
***
Aren't those adorable? I can see making them for all holidays! How cute! Thanks Kristan for sharing this super tutorial with us!
Be sure to head on over to Kristan's for the appliqué pattern and then enter to win the giveaway below!
Sponsor Prize List: 
Cucire
: Shot Cottons & Aurifil
Zipit
: $25 Gift Certificate
Dritz
: Elastics Bundle (14 packs)
Enter to win below:
a Rafflecopter giveaway

See y'all next week as we wrap up this series with a few more fabulous tutorials!